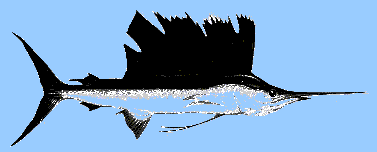 Fishing Report for 8/18/12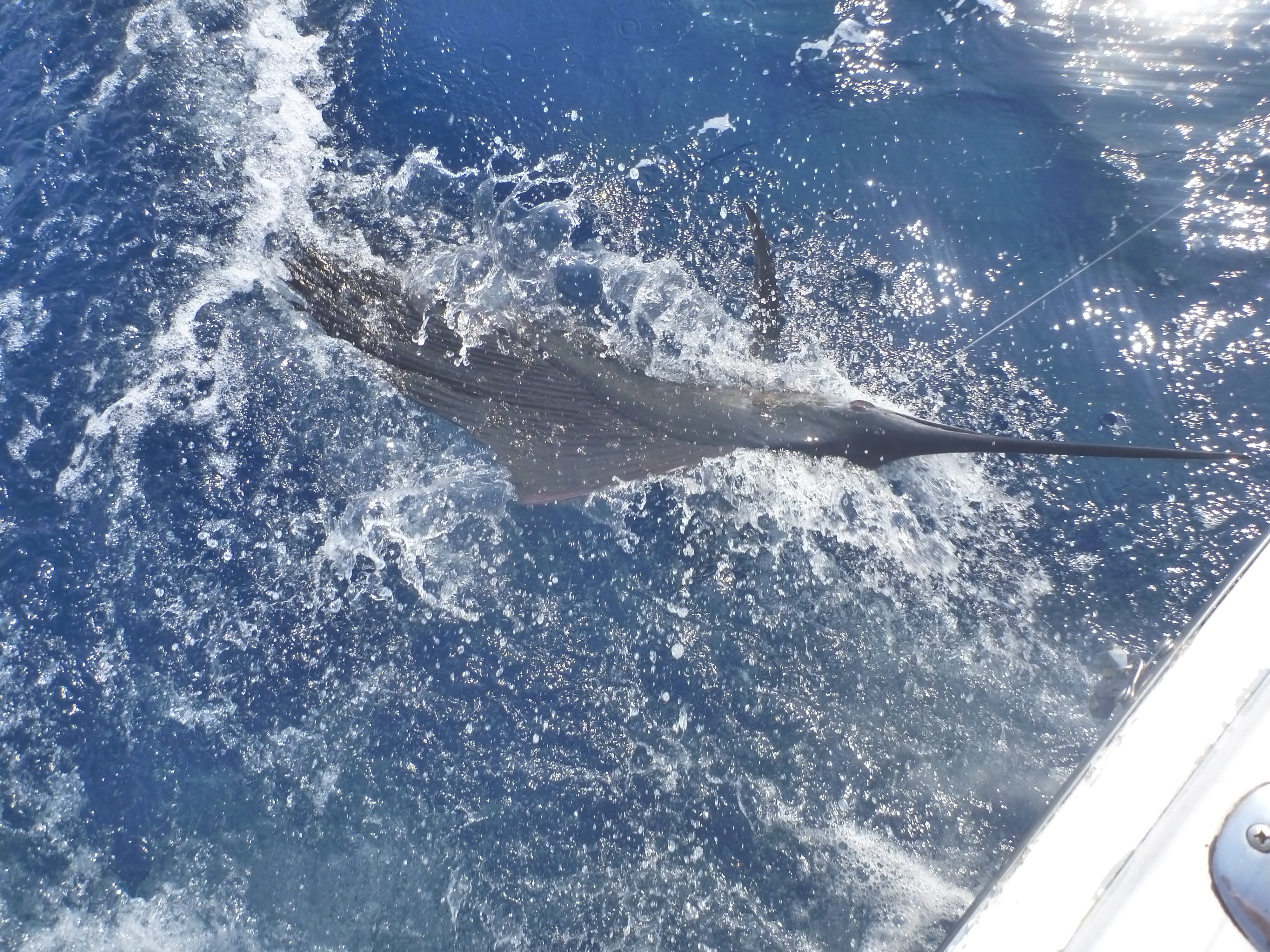 As I stood in the galley sipping my coffee before sunrise deciding if we should take the time to take on a bit of fuel I was also thinking about the fact that recently the billfish had been running hot and cold. One day there was a decent smattering of release flags flying and the next you had to look hard to find one, if at all.
Well, even though I was confident we had enough fuel, I had never run out at sea and today was not going to be the first time, so we killed 30 minutes at the dock while we added some of the pricey diesel to both the forward and aft tanks.
After a quick run down the sound with the tide half way in we were able to run the skinny water behind the inlet without incident and headed out a calm inlet with a light breeze blowing out of the southwest.
The ride offshore was a smooth one; albeit, the seas lumped up a bit as we neared the stream. Also, I was wishing I'd asked my buddy Bart to give the running gear and bottom a scraping as the growth was costing us fuel, speed and more vibration than we normally had aboard the Tempest. I'll know better next time.
Since we had heard reports of wahoo bites in 28-35 fathoms, we ran beyond the edge 'til we hit that depth and put the lines out.
Continuing to monitor the VHF's, the reports were few and far between; a dolphin here, a wahoo there. It was looking like it was going be one of those days where we had to sweat out a bite.
We trolled around and over the rock pile 5 times and then stuck our noses out as far as 60 fathoms looking for some sign of life with no joy.
It was already past noon when I heard a few boats inshore at 20 fathoms south of us begin to hit a few wahoo. So I pointed the bow towards the WSW and headed that way in the hope of salvaging the day.
At around 25 fathoms we had a reel go off, but no hookup. What was left of the bait made it obvious that our first wahoo bite didn't come tight.
When we got just inshore of 20 fathoms I noticed that we were marking small pods of bait on and just off the bottom between 114 and 109 feet. On either side of that narrow band we had zip.
I figured if I'm going to get skunked, I'm going to get skunked trolling where there is at least a slim sign of life.
It panned out. Within 10 minutes we had a 25 pound hoo in the box which hit around the 053 line. 15 minutes later we had another which skyed on a bait coming 10+ feet out of the water with it in its mouth. It looked a lot bigger, but the scale back at the dock put it at 30 pounds; respectable, if not bragging size.
I needed to tend to the dogs so Bart took the wheel for awhile. After watering the pooches, I was chatting with one of the crew when I heard Bart shout that he'd spotted a weed line. This was good news as we'd only spotted two sprigs the size of a man's hand all day long.
Now it wasn't all that much of a line, as it was made up of scattered grass that was just starting to concentrate, but it had made up well enough running east to west that we could readily follow it. Well, I'll be darned if we didn't have gaffers all over the baits as soon as he turned on it.
I took the wheel and turned back east to run over the same spot and we continued to pick up bites with some frequency.
I decided to keep running east as I was hoping deeper water would make it more likely we'd pick up another decent wahoo and perhaps we'd luck into one of those on again, off again sailfish.
I guess the power of positive thought was with us that day as I don't believe another 15 minutes went by when I heard Bart shout, white marlin! There's a white marlin on the daisy chain on the port short rigger.
I turned around and sure enough there was a decent size bill about to smack the business end of it. The fish grabbed the plastic bait and quickly decided it didn't like the taste of plastic and dropped off. But providence was with us that day as it appeared behind the dink bait on the long rigger shortly, thereafter.
Bart was working his butt off trying to get the fish to eat, but while it seemed interested it just wasn't willing to commit. Finally, Bart snatched the bait out of the clip and cranked the bait towards the boat, then stopped and jigged a bit. The fish surged, but still wouldn't eat. He cranked furiously again and again the fish charged, but the fish still stayed right behind it. Finally, on the 3rd try with the bait getting pretty close to the boat the fish pounced on it.
It was close enough that we could see it was a good sized fish.
I watched Bart artfully feed it for about 5 seconds after which he told me he took another 3 seconds or so to ponder if the fish had indeed had enough time to swallow the bait. He decided it had and moved the drag lever forward and the fish came tight at which point line began pouring off the reel.
The fish proceed to jump twice when it was about 100 yards from the boat, but it was large enough where we could see it clearly. And then, it jumped a third time and it unfurled its sail. Unbelievable! It was a monster of a sailfish for our neck of the woods!
At that point the fish really put on a show dumping at least 300 yards of the 450 yards of 30# class Ande Tournament line on the TLD 30 and jumping so many times while it was at it that I couldn't begin to keep count.
We actually had to back down on the rascal for 10-15 minutes to get our line back.
The rest of the story is told in the additional pictures below.  J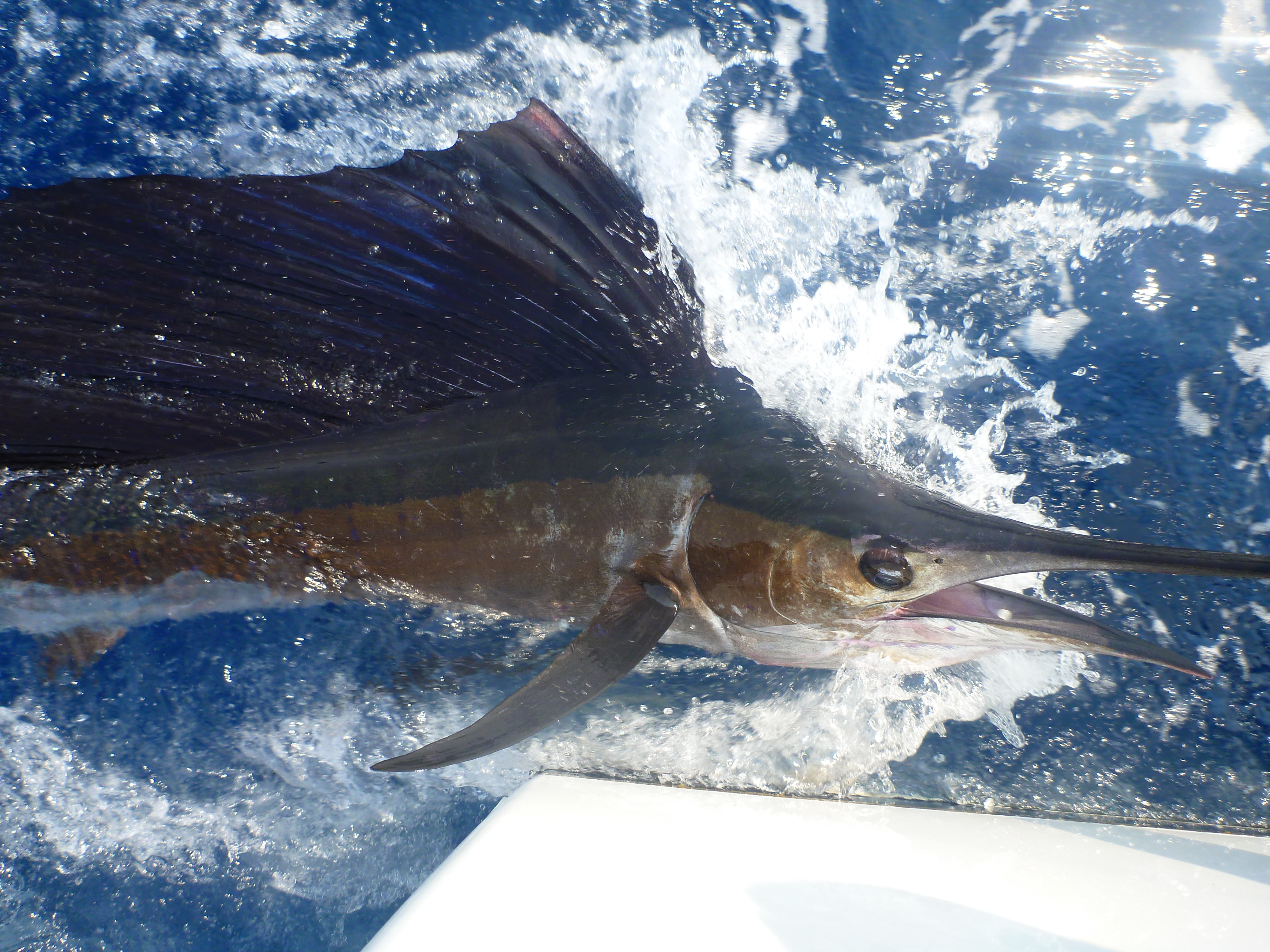 A couple of quick pics in the boat and it was released to swim off to fight again another day.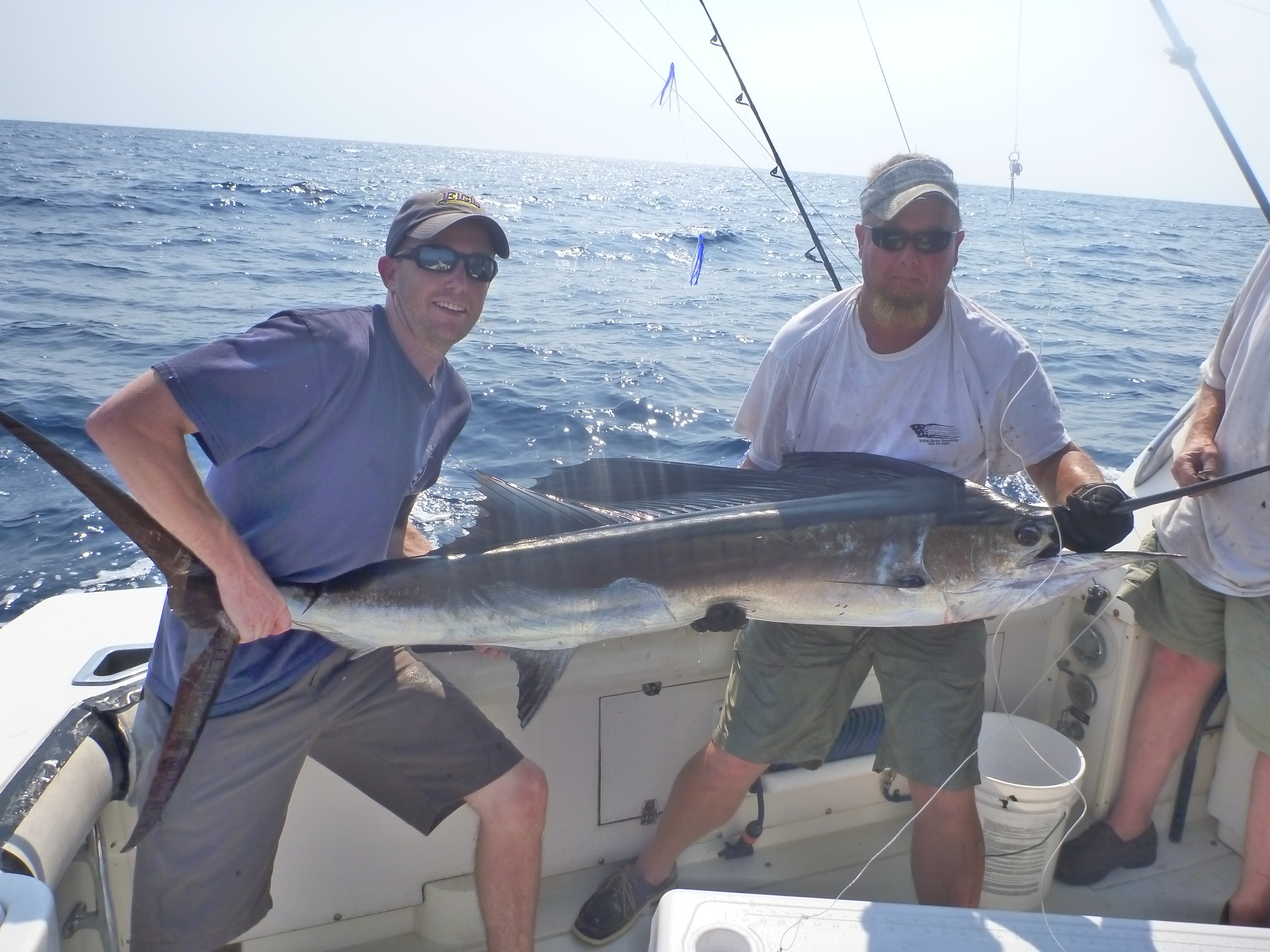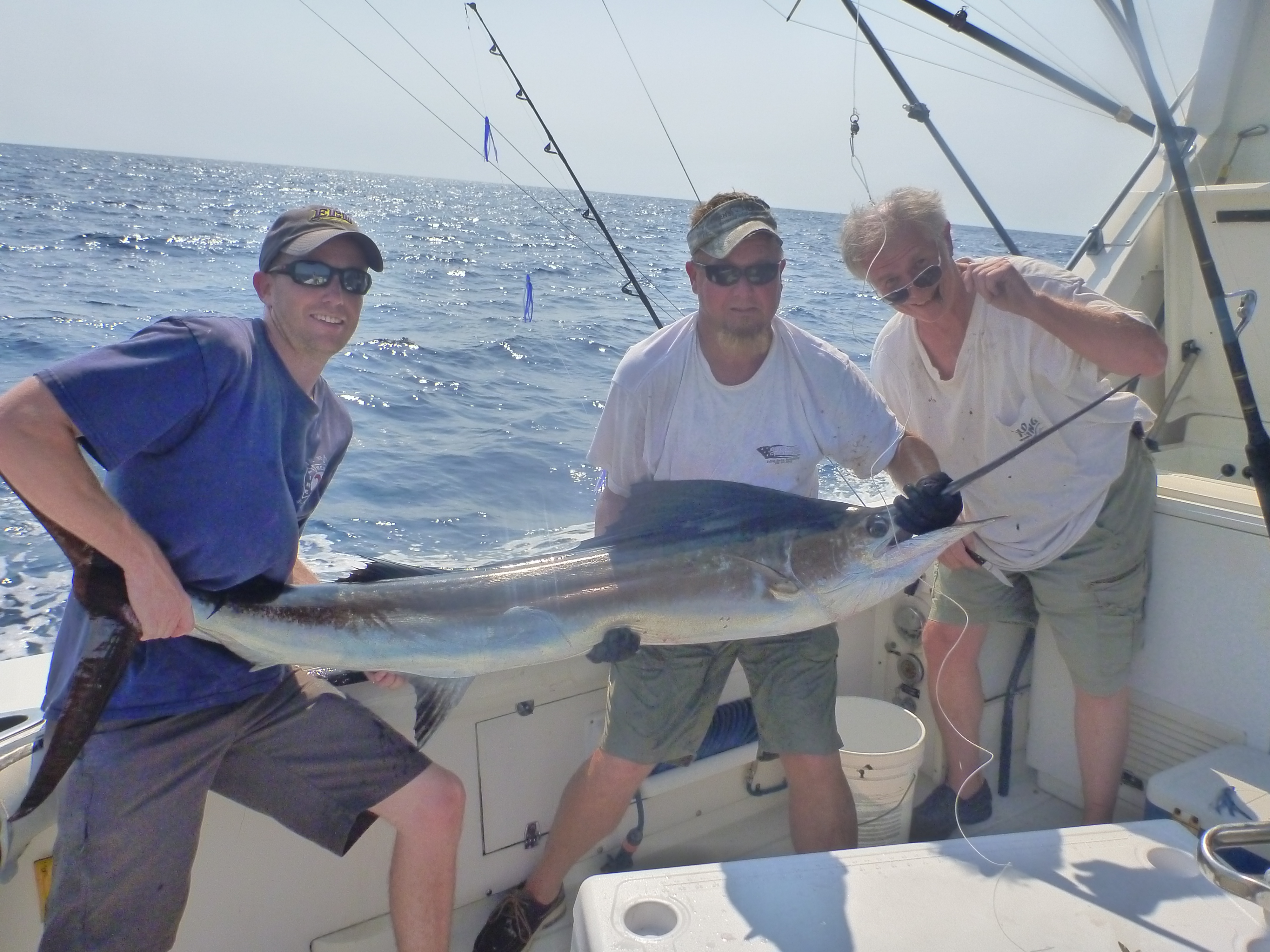 And a shot of one of the wahoo back at the dock for good measure. J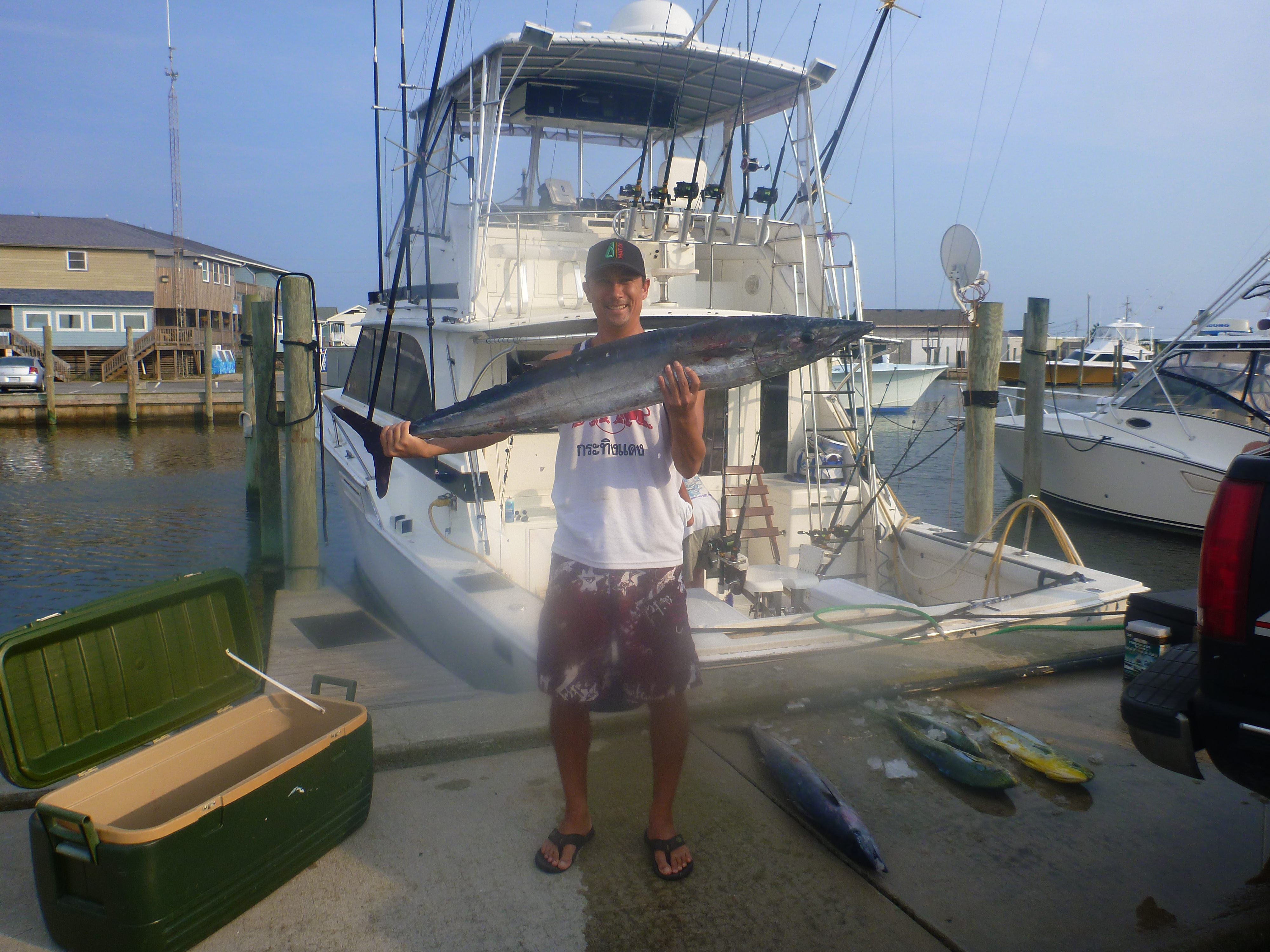 And, as is always the case, I simply can't wait to get back out there …. J