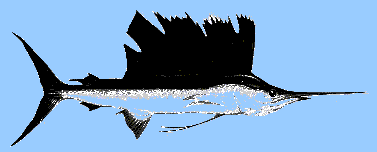 Fishing Report for 8/1/11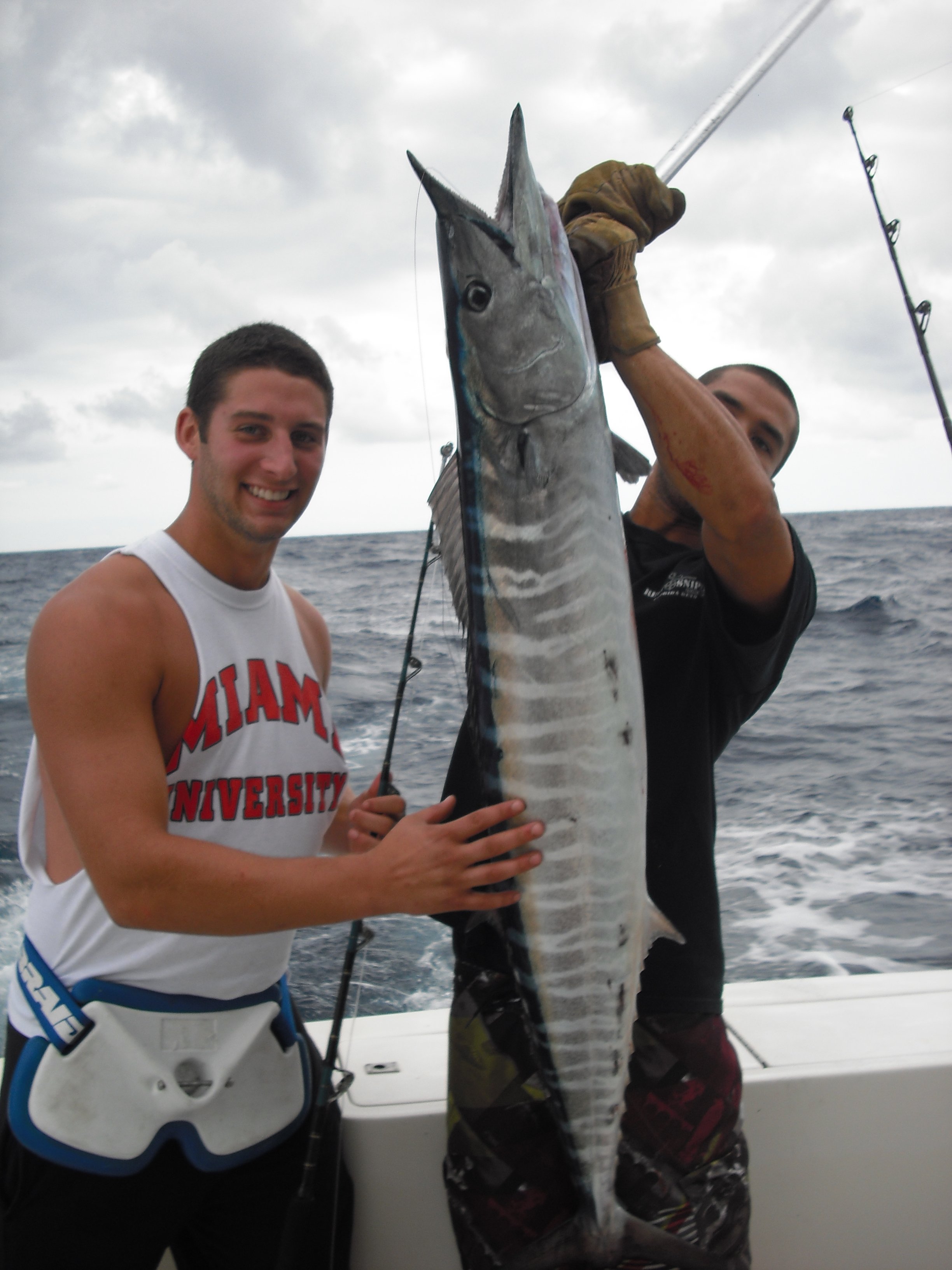 As dawn broke on the morning of 8/1/11 my mate Mike Buehler, a crew of three from Ohio and I all warily watched a weather cell move over Hatteras as we prepared to leave the dock.
This was one morning, I was happy we needed to take on fuel for the day's trip.
The forecast for the day had been good to include a chance of early morning showers; and by the time we finished fueling the cell had moved offshore.
As we headed offshore to the area where we hoped to find dolphin, wahoo and sailfish, I kept an eye on the radar. While there were a number of cells visible, they were heading away from us.
We started fishing in 20 fathoms and when we got out to about 26 fathoms the shotgun went off. Alas, it was a familiar story as a wahoo had bitten a dink bait off just behind the shank of the hook. However, soon thereafter, fortune was with us as the rascal pictured above rocketed fully out of the water and inhaled a dink bait on a flat line set just behind and between the spreader bar teasers.
It dumped about 200 yards of 30# class line off of a 30# class standup rig in relatively short order and put a nice bend in the rod for another 15 – 20 minutes before coming to gaff.
Within 10 minutes, the starboard long rigger went down. Unfortunately, as soon as the fish came tight we heard the unwelcome sound akin to the report of a pistol which indicated the line had probably been wrapped on something.
Well, we knew where the wahoo were.
We were fishing in lightly scattered weed. Meanwhile, I'd heard reports of heavy patches of weed out around 40 fathoms. So I headed a bit further offshore to see if it might hold a billfish for us with the notion of trolling back into wahoo territory if it didn't pan out.
We found the weed and trolled southwest along the line for a couple of miles and our baits were bounced by a large school of bailers. We managed to put 4 in the box and trolled for another mile or so. We probably could have limited out on bailers from that school, but that is not what why we were out there.
At that point I noticed a weather cell which was large and growing headed straight towards the area where we'd caught the wahoo. Worse it was headed in our direction as well. The darn thing chased us southwest for 7 miles and finally overtook us. I was glad we had run the weed line as we'd have really been in the soup if we'd stuck with the wahoo a while longer. As it was, we had one cloud to cloud strike that was uncomfortably close.
A couple of hours later, the cells had dissipated and I was finally able to fish the area where we had the 3 strikes in quick succession, but it only produced one additional bite which again resulted in a ballyhoo bitten off just behind the hook.
We did pick up a final mystery bite on the starboard long rigger which showed signs of a bill mark, but even though Mike had immediately dropped the bait back when the fish didn't come tight, there was no joy.
While it certainly was not a banner day fishing-wise, we all had a good time with the fish we'd found, new found friendships and a trip back to the dock on calm seas.
And, there is always next time …. J