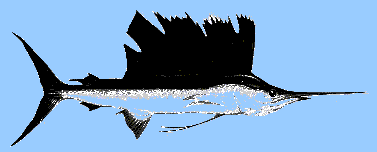 Fishing Report for 3-8-10 & 3-9-10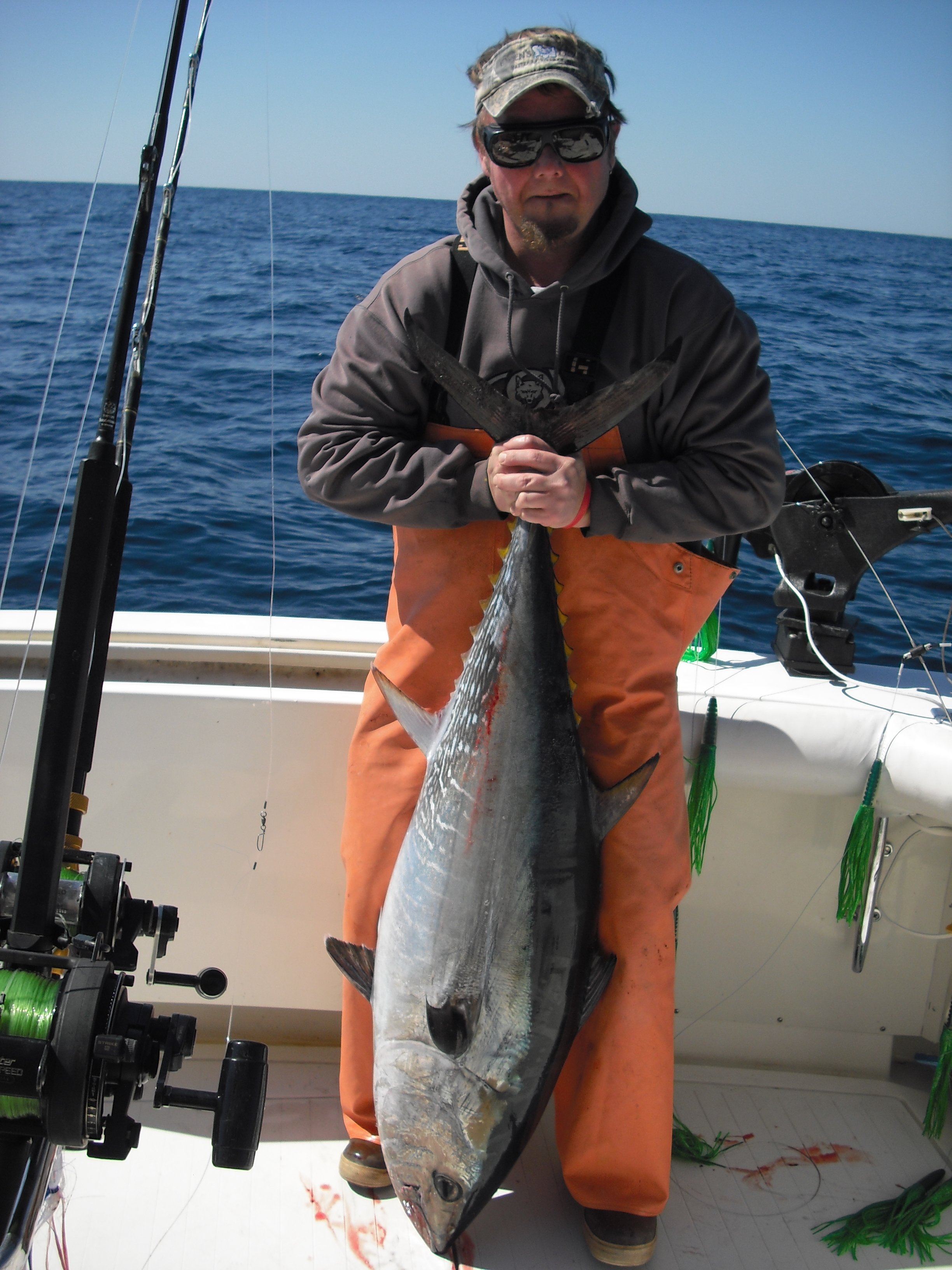 Bart Smith with his bluefin tuna. (Click To Enlarge)
After 3 days of maintenance activity I was ready to head to sea and see if I could harass some of the bluefins that were moving north past Hatteras. Further, I was determined to try and handle one of these beasts with 30# class gear.
I rang up my buddy Bart Smith and to my delight I discovered he had some time on his hands. We couldn't find anyone else who was able to go, so the two of us left the dock at about 6:30 AM.
We crossed the change which broke from about 42 degrees to 71 degrees about 8 miles below where the small fleet was fishing. Bart suggested we give it a try before heading further North.
I got two 48" spreader bars sporting green machines out with the port side bar set 50 feet back and the starboard side bar 70 feet behind the boat.
I then set out medium size ballyhoo on a blue-white Islander Sea Star behind the port side bar which was running on a 30# class rod  on the bridge. Shortly thereafter I was about to set another bait out on the other side when Bart called out "Don't put that bait out!". I looked up as I started to ask why not and had my answer when I saw the rod was bent over with line pouring off the reel.
Bart handed the rod down to me and after the fish had burned off about 350+ of the 450 yards of 30 # class Ande Tournament line that the reel held, I pumped and wound about 12 times and the fish broke off.
We trolled around the area where we had marked the fish for another 20 minutes or so and another fish boiled on a bait rigged behind a blue-white Sea Witch.
It was Bart's turn on the rod. This fish stayed glued and after I got Bart a rod harness and kidney belt, he went to work on that rascal while I maneuvered the boat. 55 minutes later Bart had just seen color on the fish when the 100# fluorocarbon leader parted right in front of where the pin was crimped onto it.
To keep the story from getting too long winded, we never ran more than 5 baits in the spread as we had plenty of action for the rest of the day, but the fish made chumps out of us to include carrying off 5 of our 6 wind on leaders on the 30's we were using; albeit we did manage to boat a 20 pound blackfin
OK. Not one to give up, I got up at 4:30 AM the next morning and started re-rigging. Bart joined me at 5:45 and we both carefully re-rigged the 30's and finally left the dock at 8:30 AM.
The ride out was a special treat as it was as pretty a day as you'll see in Hatteras at this time of year with the seas being darn near flat calm under a beautiful sunny sky.
We started fishing in the same general area where we'd quit. We trolled around the area for about an hour and we were about ready to pull in the baits and head further north to join the fleet; however, there was a nice steep drop off which abruptly went from around 320 feet to 380 feet just about a quarter mile off our bow which I wanted to try before we made the move.
Well, as the old saw goes even a blind squirrel will find an acorn now & then. Just as soon as we hit the drop off, the sounder showed bait and fish everywhere on the screen from 20 feet down to 200 feet. Bart I didn't have much time to discuss this stroke of good fortune when the short rigger baits which were placed just outboard of the spreader bars both went off within 30 seconds of each other with line pouring from both of the reels.
Well, there were just two of us and we both went to work. Notwithstanding the fact that I had to put my rod in a holder at least 20 times to maneuver the boat, a little over an hour later I had mine at the boat and Bart skillfully sunk a tag in its back. The 80 - 100 pound class fish was pretty darn tuckered by the time we finally worked the hook out which was buried deep in the bottom of its mouth, so we swam it behind the boat for a quarter mile or so until its tail was kicking pretty strong at which point we released it and watched it head for the deep.
But wait, we still had Bart's fish on! Bart had a tougher time with his fish, perhaps in part because I'd hooked mine up on a TLD two-speed and his fish was on one of the original TLD single speeds.
Bart went back to work and maybe 15 minutes later, Bart slipped a gaff through the whipped fish's lower lip and between the two of us we managed to get it aboard; get a couple of quick pictures and ice it down for Bart's table.
Action slowed down a bit. Then maybe 20 minutes before we were ready to call it a day we spotted fish breaking on the surface and chased 'em down and had a real nice fish boil on a bait only to have it break off immediately as I had foolishly not noticed that the line had wrapped around the rod tip.
We weren't able to spot where the fish were and decided to pull the baits. Believe it or not, just as soon as we had secured the last outrigger fish started boiling all around us to include a large hammerhead in their midst. Bart & I just chuckled and headed for the beach.
For anyone who is interested, every bite we got over the two days was on the baits just behind and outboard of the spreader bars except for one strike on the port long rigger which we also had running short, maybe 15 feet behind the short riggers and one on a shotgun running way back behind a bird. Also, every strike was on blue-white except for the blue-pink lure we had running behind the shotgun.
I can't begin to describe what a great time we had. Great weather, calm seas, good numbers of quality fish and, perhaps most importantly, darn good company!
Capt. Alex Craig